The Chocospherian

Incredible Chocolate News

July 17th, 2019
Written By: MeLissa, Chocosphere Team
---
Incr'Edible' Chocolate Deals
We have a GREAT offer just for you! Take 10% off your entire order, subject to exclusions noted below, at www.Chocosphere.com! We don't use coupon codes very often, so take advantage while you can!!! This deal ends at 11:59PM (PDT) on July 31st, 2019.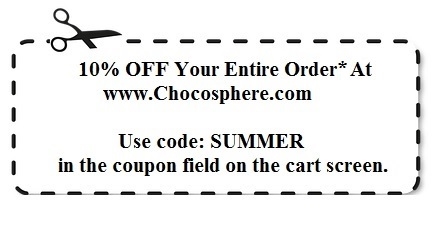 *Offer excludes shipping, gift certificates, chocolate club subscriptions, and warm weather packaging. Only one coupon may be used per person, per transaction.
---
What's New
Dark Love: We are only carrying one item from this amazing chocolatier; a gift box of assorted coffins and hearts. It's Halloween in July!
Dark Love is a small company specializing in quality chocolate of a darker theme with an undertone of humor. Each piece is uniquely designed to pair with its name and flavor to create an experience for the senses and mind. Only the best ingredients available are used, Oregon hazelnuts, fine liqueurs such as Grand Marnier, French-American chocolate, Nielsen Massey vanilla, and most importantly: no artificial flavorings.
Auro: We have 8 lovely bars in two sizes (50g and 100g), as well as four types of couverture in kilo bags, a smaller pouch of 100% cacao unsweetened couverture, and the most scrumptious chocolate covered freeze dried Mango. To top it off, the chocolate is grown and produced in the Philippines.
Auro Chocolate is a proudly Filipino, bean-to-bar chocolate company that sustainably sources cocoa beans directly from local farming communities in Davao while doing their part to restore the Philippines' heirloom varieties. They work with the farmers to help them improve their skills, and buy their beans at higher value to inspire quality and to give farmers the opportunity to improve their standard of living
---
Customer Service
Of course we are happy to help over the phone, but we do appreciate it when you place your order on line. It helps us give the most prompt and accurate service. And when you need help, we are here for you. There is generally someone answering the phones between 8:30am. and 4:30pm. Pacific Time, Monday through Friday, with the exception of commonly observed holidays.
There are five of us answering phones at Chocosphere, where we speak fluent Chocospherian. We try hard to answer all calls personally during normal business hours, but occasionally one slips over to voice mail. If you call and end up in voice mail, please leave a message. We will do our very best to call back promptly. If by chance you don't hear back from us in a reasonable time, please call again during our normal business hours.
We each have varying levels of experience. It is our goal to happily serve you the very best chocolate!!
Finally, and very importantly, our web site lists our service commitments as to when we ship an order based on when the order is placed. However, we certainly understand there are circumstances where you may want us to process an order faster, when you need your chocolate "now"! If you need your order shipped faster than our listed service commitment, please place your order online letting us know of your need in the "Comments" section, and then call us (503-692-3323 x 0 for Customer Service) to let us know. We can't guarantee early shipping, but we always try hard to provide chocolate happiness to our valued customers.
---
Newsletter
If you want us to send a copy as an email every time there is a new issue or to tell you about special offers, please create an account at chocosphere.com and check the newsletter box.
---
Topics:
If you have a topic you would like us to cover in the newsletter, please drop us a line: customer-service@chocosphere.com and we will be happy to include it in a future edition.
Contact us at 503-692-3323 and press 0 for Customer Service
Fax 503-692-1494